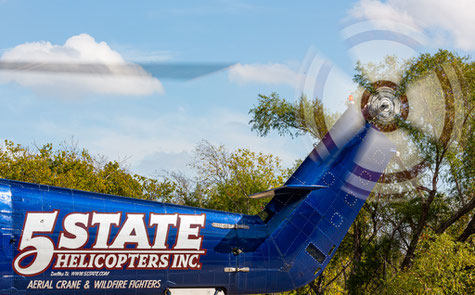 We were met at the entrance gate by Max Greczyn, our point of contact and an operations coordinator for the company. From a distance we could already see an immaculate specimen of an (new) old workhorse. N4XY was sitting at the tarmac, wearing a dark blue color scheme that really stood out against the dark green tree line. The reason for this early visit was to witness the take-off and landing by the Sikorsky S-58T helicopter. Several preparations were taking place to get the helicopter airborne at 07:30am. Today´s task was going to be a hauling job, placing 27 air-conditioning units on top of a building. A common practice for a well skilled crew of 3. On board were a pilot, roof coordinator and a ground coordinator. It would take around 4 hours to complete this assignment. Besides the regular flight checks, a lot of rules & regulations are in place for a smooth operation. These jobs are precisely prepared in the nearby office before anything goes on. The work area around the site, where the helicopter will operate, has to be secured pre-operation, it has to be clear of all sorts debris. Hauling equipment on the helicopter will be checked as well as the load on the ground. Following all procedures according strict FAA regulations. Safety is key, all crewmembers are trained to the teeth on this.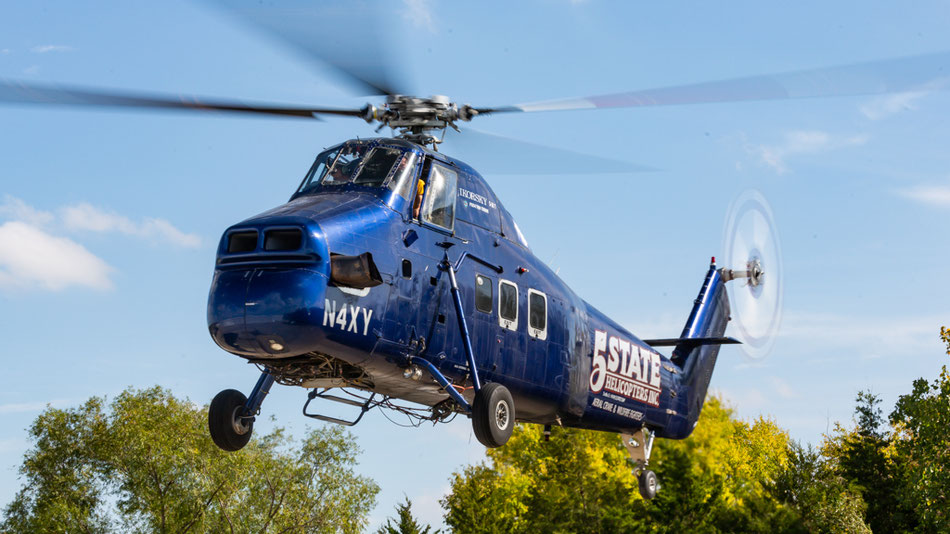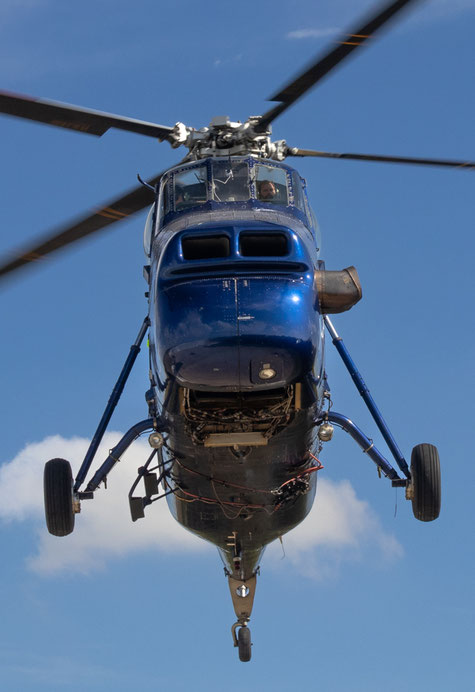 Even with our PPE on, a big roar filled our ears, as the engine was started. The circulation of air that the rotors produced, almost knocked us of our socks. It was a great feeling inside our bodies to stand next to a powerful piece of machinery like this. Lift off was swift, we went inside to have a coffee and meet some of the crew.
Lead mechanic and long-time employee of 5 State Helicopters Rich, told us about the history of the company. "It all started over 40 years ago. As a Texas based company, they were quite exclusive in the area. "The origin of the name 5 State Helicopters consists of operations in Texas and the joining states of Arkansas, Louisiana, New Mexico & Oklahoma. They were one of the first leading companies in aerial hauling, disaster assistance (like fire-fighting, hurricane relief etc.) and helicopter recovery jobs. Extensive expertise and results that speak for itself, nowadays they are able to perform tasks all around the United States of America on merit." Rich Sommers has seen a large portion of the development that the company went through until now. He was working on the interior of their latest acquirement, the Sikorsky UH-60A Blackhawk.
We continued on and got the full tour around the hangar. Bastiaan wandered off taking the pictures and I met up with Jesus from Centerpointe Aerospace, he is in charge of maintenance. He talked passionately about the fleet of helicopters they own, the storage facility, maintenance shop and paint booth, that makes them independent and self-sustained. In the near future all helicopters will receive the same black and yellow livery, that will be applied in-house. One of the Sikorsky S-58T helicopters already was in a disassembled state for major overhaul and will be painted soon. Jesus mentioned, that they have so many parts in the storage facility, that they could build another five helicopters of this type. 5 State Helicopters and sister company Centerpointe Aerospace are fully licensed to do all the work themselves. They also assist in assembly, maintenance & overhaul and fabricating parts for other companies, that request their help.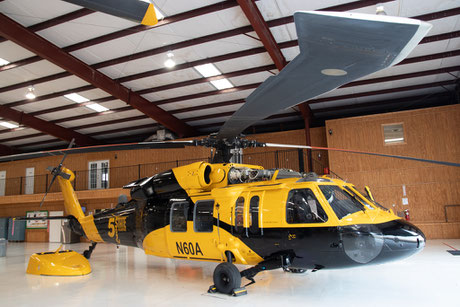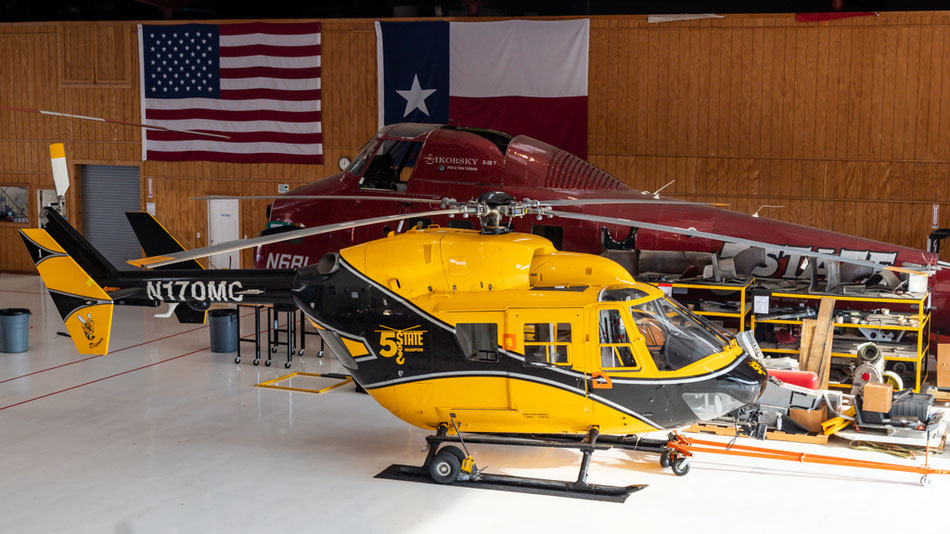 MBB BK117B-1 c/n 7217 build in 1990 with test registration D-HFDH, to N7161S (owner/operator unknown) and N170MC flying for Omniflight Helicopters from june 2002 till March 2015 contracted to Orlando Health and later to Air Methods March 2015 till 5-State Helicopters became the new owner in January 2020. Sporting their new colors and named "Digger"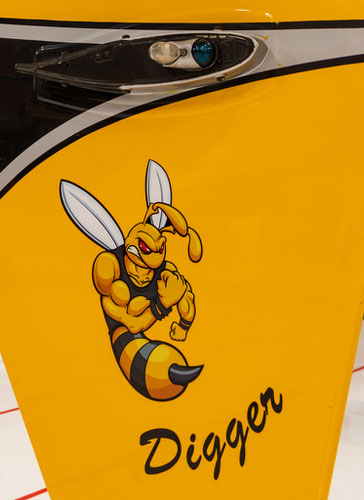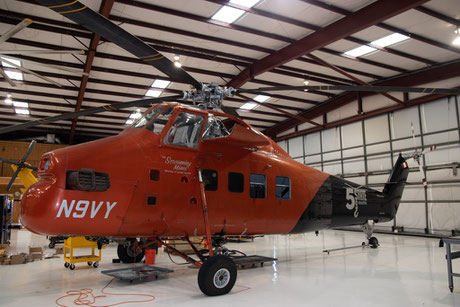 A wide variety of options are available, when you want to book 5 State Helicopters for a task at hand. Maximum lift capability of 8000 pounds is provided by their heavy-duty helicopter, the Sikorsky UH-60A Blackhawk. They have a number of Sikorsky S-58T helicopters for medium work. And their latest addition for light-hoisting work is performed by the MBB BK-117, nicknamed "Digger". Outside they have a company owned fuel truck to supply the necessary liquid needed for the engine.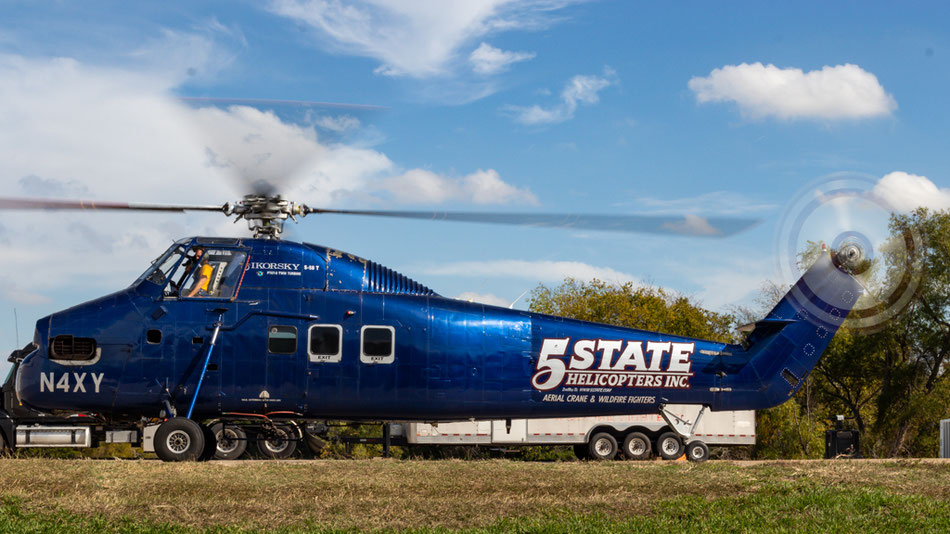 c/n 58700 built in 1958 a Sikorsky S-58B converted in July 1972 to S-58BT.
Owner history; To Change Vought December 1970 then to Sikorsky still as N870 January 1964 till July 1972 sold to Carson Helicopters, had some substantial damage (tail rotor hit hangar) July 1980. Sold to Northern Mountain Helicopter as May 1994 as C-GPTQ. Back to the US as N75BL (owner Unknown) November 1998. 5 State Helicopters purchased the helicopter in December 1998 as N4XY.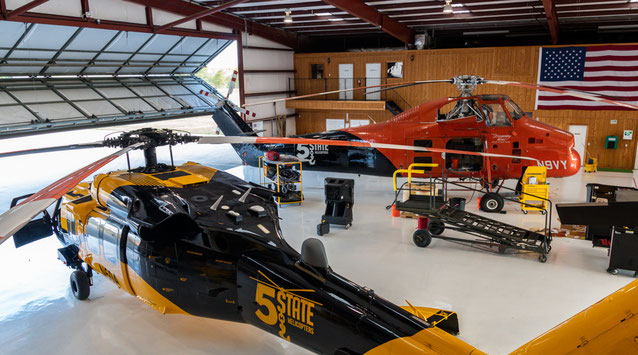 5 State Helicopters focus on the future, besides their main core business aerial hauling, lies with fire-fighting. Therefore, two more Blackhawks are being taken up in the fleet. This helicopter will be equipped with the latest technology in suppressing wildfires. Naturally, all helicopters in the fleet can assist in the conventional way of fire-fighting, by operating the Bambi-bucket from the fixed hoisting point underneath the fuselage. In Fate, Texas they are looking into building a new hangar to accommodate more helicopters. Future expansion will be established by forming new alliances through franchises across the USA. They will be helping out with education and training on how to operate under a franchise license using the 5 State Helicopters brand.
Time flies when you are having fun! After 3,5 hours, the job finished early and we were informed that the Sikorsky S-58T was on its way back to base. A couple minutes later, we could hear a rumble in the distance. As sound drew nearer, we noted the helicopter making her final approach by swooping around, according the right flight path towards the helipad. With a gentle touchdown and the pilot doing the last checks, the engine shut down and straight up a tug was applied to tow the helicopter inside the hangar. Maintenance employees started immediately with their checks to get her ready for the next job.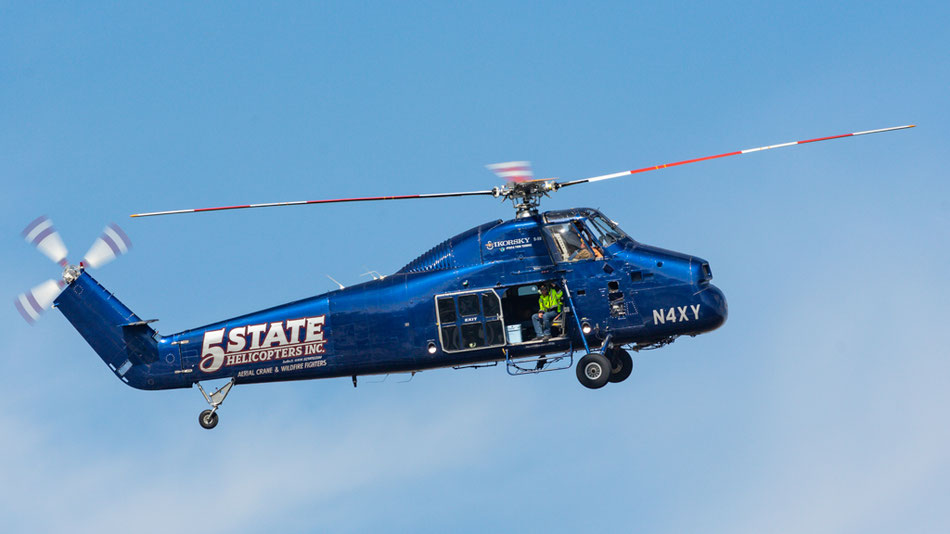 5 State Helicopters is a well-organized company going through all the ranks. It is a medium-sized company, but growing fast. We got the feeling of one big happy family. We were welcomed with open arms and everybody was very friendly and open. We would like to thank you all for this experience.
The company has a  fleet of three Sikorsky S-58T's N6BL, N9VY and N4XY, a Sikorsky UH-60A Black Hawk N60A and a MBB BK-117 N170MC.
All photos by Bastiaan Hart, Text by Jeroen van Toor